Your trusted real estate agent in Antigua W.I. since 2005
Price on Request
Hodges Bay, Antigua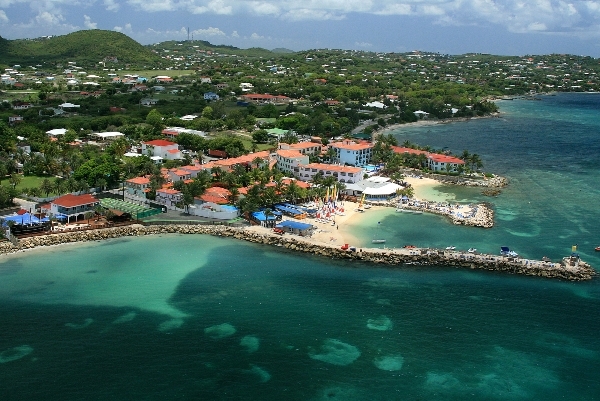 BEACH HOTEL & SPA
Commercial / Projects
Price on Request
Highlights
Caribbean Sea View
Beach Front
Swimming Pool
Deck
Terrace
Located on the northern tip of Antigua in Hodges Bay, Colonna Beach Hotel & Spa is perfectly placed to enjoy all that the Caribbean has to offer. This stunning tropical resort offers a palm lined beach, wildlife, a spa and gym, friendly people and great year round sailing on crystal clear waters in balmy trade winds.
With Italian style red roofed buildings painted in an array of colors classic to the Caribbean, Colonna Beach Hotel offers a choice of rustic apartments and villas surrounded by wonderful gardens. Caressing two secluded beaches and kissed by the crystal clear turquoise waters of the Caribbean Sea.
The bistro restaurant with outdoor/indoor dining, is situated on the water's edge.
---
Features
Marine and Water Centre
2 restaurants (fine dining & bistro)
Lounge bar
Gym & Spa
Boutique
Gift Shop
Art Gallery
Health Bar & Coffee Shop
Tennis Court
Beach Volley Ball
Cinema Club
Conference Centre
---
Amenities
79 Bedrooms
Directly On The Beach
Caribbean Sea Views
Terrace
Private Swimming Pool
Deck
Warning
: Undefined array key "bedroom11" in
/home/www/paradisepropertiesconnection.com/page.php
on line
1335
Warning
: Undefined array key "bedroom12" in
/home/www/paradisepropertiesconnection.com/page.php
on line
1335
Warning
: Undefined array key "bedroom13" in
/home/www/paradisepropertiesconnection.com/page.php
on line
1335
Warning
: Undefined array key "bedroom14" in
/home/www/paradisepropertiesconnection.com/page.php
on line
1335
Warning
: Undefined array key "bedroom15" in
/home/www/paradisepropertiesconnection.com/page.php
on line
1335
Warning
: Undefined array key "bedroom16" in
/home/www/paradisepropertiesconnection.com/page.php
on line
1335
Warning
: Undefined array key "bedroom17" in
/home/www/paradisepropertiesconnection.com/page.php
on line
1335
Warning
: Undefined array key "bedroom18" in
/home/www/paradisepropertiesconnection.com/page.php
on line
1335
Warning
: Undefined array key "bedroom19" in
/home/www/paradisepropertiesconnection.com/page.php
on line
1335
Warning
: Undefined array key "bedroom20" in
/home/www/paradisepropertiesconnection.com/page.php
on line
1335
Warning
: Undefined array key "bedroom21" in
/home/www/paradisepropertiesconnection.com/page.php
on line
1335
Warning
: Undefined array key "bedroom22" in
/home/www/paradisepropertiesconnection.com/page.php
on line
1335
Warning
: Undefined array key "bedroom23" in
/home/www/paradisepropertiesconnection.com/page.php
on line
1335
Warning
: Undefined array key "bedroom24" in
/home/www/paradisepropertiesconnection.com/page.php
on line
1335
Warning
: Undefined array key "bedroom25" in
/home/www/paradisepropertiesconnection.com/page.php
on line
1335
Warning
: Undefined array key "bedroom26" in
/home/www/paradisepropertiesconnection.com/page.php
on line
1335
Warning
: Undefined array key "bedroom27" in
/home/www/paradisepropertiesconnection.com/page.php
on line
1335
Warning
: Undefined array key "bedroom28" in
/home/www/paradisepropertiesconnection.com/page.php
on line
1335
Warning
: Undefined array key "bedroom29" in
/home/www/paradisepropertiesconnection.com/page.php
on line
1335
Warning
: Undefined array key "bedroom30" in
/home/www/paradisepropertiesconnection.com/page.php
on line
1335
Warning
: Undefined array key "bedroom31" in
/home/www/paradisepropertiesconnection.com/page.php
on line
1335
Warning
: Undefined array key "bedroom32" in
/home/www/paradisepropertiesconnection.com/page.php
on line
1335
Warning
: Undefined array key "bedroom33" in
/home/www/paradisepropertiesconnection.com/page.php
on line
1335
Warning
: Undefined array key "bedroom34" in
/home/www/paradisepropertiesconnection.com/page.php
on line
1335
Warning
: Undefined array key "bedroom35" in
/home/www/paradisepropertiesconnection.com/page.php
on line
1335
Warning
: Undefined array key "bedroom36" in
/home/www/paradisepropertiesconnection.com/page.php
on line
1335
Warning
: Undefined array key "bedroom37" in
/home/www/paradisepropertiesconnection.com/page.php
on line
1335
Warning
: Undefined array key "bedroom38" in
/home/www/paradisepropertiesconnection.com/page.php
on line
1335
Warning
: Undefined array key "bedroom39" in
/home/www/paradisepropertiesconnection.com/page.php
on line
1335
Warning
: Undefined array key "bedroom40" in
/home/www/paradisepropertiesconnection.com/page.php
on line
1335
Warning
: Undefined array key "bedroom41" in
/home/www/paradisepropertiesconnection.com/page.php
on line
1335
Warning
: Undefined array key "bedroom42" in
/home/www/paradisepropertiesconnection.com/page.php
on line
1335
Warning
: Undefined array key "bedroom43" in
/home/www/paradisepropertiesconnection.com/page.php
on line
1335
Warning
: Undefined array key "bedroom44" in
/home/www/paradisepropertiesconnection.com/page.php
on line
1335
Warning
: Undefined array key "bedroom45" in
/home/www/paradisepropertiesconnection.com/page.php
on line
1335
Warning
: Undefined array key "bedroom46" in
/home/www/paradisepropertiesconnection.com/page.php
on line
1335
Warning
: Undefined array key "bedroom47" in
/home/www/paradisepropertiesconnection.com/page.php
on line
1335
Warning
: Undefined array key "bedroom48" in
/home/www/paradisepropertiesconnection.com/page.php
on line
1335
Warning
: Undefined array key "bedroom49" in
/home/www/paradisepropertiesconnection.com/page.php
on line
1335
Warning
: Undefined array key "bedroom50" in
/home/www/paradisepropertiesconnection.com/page.php
on line
1335
Warning
: Undefined array key "bedroom51" in
/home/www/paradisepropertiesconnection.com/page.php
on line
1335
Warning
: Undefined array key "bedroom52" in
/home/www/paradisepropertiesconnection.com/page.php
on line
1335
Warning
: Undefined array key "bedroom53" in
/home/www/paradisepropertiesconnection.com/page.php
on line
1335
Warning
: Undefined array key "bedroom54" in
/home/www/paradisepropertiesconnection.com/page.php
on line
1335
Warning
: Undefined array key "bedroom55" in
/home/www/paradisepropertiesconnection.com/page.php
on line
1335
Warning
: Undefined array key "bedroom56" in
/home/www/paradisepropertiesconnection.com/page.php
on line
1335
Warning
: Undefined array key "bedroom57" in
/home/www/paradisepropertiesconnection.com/page.php
on line
1335
Warning
: Undefined array key "bedroom58" in
/home/www/paradisepropertiesconnection.com/page.php
on line
1335
Warning
: Undefined array key "bedroom59" in
/home/www/paradisepropertiesconnection.com/page.php
on line
1335
Warning
: Undefined array key "bedroom60" in
/home/www/paradisepropertiesconnection.com/page.php
on line
1335
Warning
: Undefined array key "bedroom61" in
/home/www/paradisepropertiesconnection.com/page.php
on line
1335
Warning
: Undefined array key "bedroom62" in
/home/www/paradisepropertiesconnection.com/page.php
on line
1335
Warning
: Undefined array key "bedroom63" in
/home/www/paradisepropertiesconnection.com/page.php
on line
1335
Warning
: Undefined array key "bedroom64" in
/home/www/paradisepropertiesconnection.com/page.php
on line
1335
Warning
: Undefined array key "bedroom65" in
/home/www/paradisepropertiesconnection.com/page.php
on line
1335
Warning
: Undefined array key "bedroom66" in
/home/www/paradisepropertiesconnection.com/page.php
on line
1335
Warning
: Undefined array key "bedroom67" in
/home/www/paradisepropertiesconnection.com/page.php
on line
1335
Warning
: Undefined array key "bedroom68" in
/home/www/paradisepropertiesconnection.com/page.php
on line
1335
Warning
: Undefined array key "bedroom69" in
/home/www/paradisepropertiesconnection.com/page.php
on line
1335
Warning
: Undefined array key "bedroom70" in
/home/www/paradisepropertiesconnection.com/page.php
on line
1335
Warning
: Undefined array key "bedroom71" in
/home/www/paradisepropertiesconnection.com/page.php
on line
1335
Warning
: Undefined array key "bedroom72" in
/home/www/paradisepropertiesconnection.com/page.php
on line
1335
Warning
: Undefined array key "bedroom73" in
/home/www/paradisepropertiesconnection.com/page.php
on line
1335
Warning
: Undefined array key "bedroom74" in
/home/www/paradisepropertiesconnection.com/page.php
on line
1335
Warning
: Undefined array key "bedroom75" in
/home/www/paradisepropertiesconnection.com/page.php
on line
1335
Warning
: Undefined array key "bedroom76" in
/home/www/paradisepropertiesconnection.com/page.php
on line
1335
Warning
: Undefined array key "bedroom77" in
/home/www/paradisepropertiesconnection.com/page.php
on line
1335
Warning
: Undefined array key "bedroom78" in
/home/www/paradisepropertiesconnection.com/page.php
on line
1335
Warning
: Undefined array key "bedroom79" in
/home/www/paradisepropertiesconnection.com/page.php
on line
1335