Your trusted real estate agent in Antigua W.I. since 2005
US$ 875,000 US$ 695,000
Paradise View, St. John's, Antigua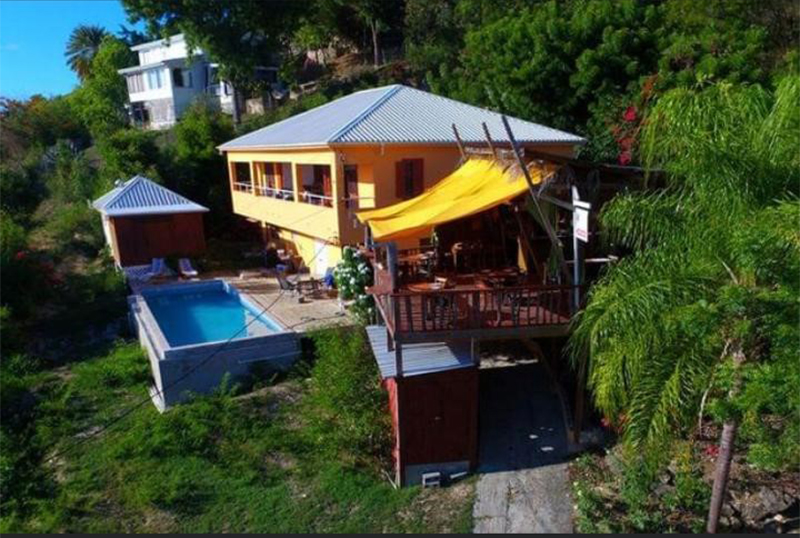 STELLA PARADISE VIEW
Property Sales
US$ 875,000 US$ 695,000
Highlights
Caribbean Sea View
Swimming Pool
Deck
Introducing Stella Paradise View, a captivating two-story property located in the prime area of Dickenson Bay, just a short 5-minute drive from the vibrant capital city of St. John's. This exceptional property offers a range of amenities and convenient proximity to bars, restaurants, and the stunning beach.
Situated on a spacious 1/3 acre of land, Stella Paradise View boasts two charming one-bedroom, one-bathroom apartments, ensuring comfortable and private accommodations for guests. Additionally, this unique property features a welcoming restaurant and a 33ft pool that overlooks the mesmerizing ocean views, providing a breathtaking setting for relaxation and enjoyment.
For added convenience, a small detached staff cottage is also included on the premises. Visitors and guests will appreciate ample car parking available to accommodate their needs during their stay.
The upper level of this remarkable property offers a spacious and inviting layout, encompassing a large hall, living room, well-equipped kitchen and dining area, a cozy bedroom, a bathroom, a cloakroom/utility room, and a verandah. These well-appointed spaces create a comfortable and functional living environment, perfect for entertaining or simply unwinding in style.
On the lower floor of Stella Paradise View, an apartment awaits with its own living room/kitchen, bedroom, and bathroom. This versatile space is often rented as a holiday accommodation, presenting an excellent opportunity for additional income generation.
Furthermore, planning permission has already been obtained to construct two more cottages on the property. With an estimated rental potential of US$120 per night per room, this expansion will add to the property's already impressive investment prospects.
Beyond its exceptional accommodations, Stella Paradise View boasts several desirable features. Each accommodation has a private entrance, ensuring privacy and convenience for both guests and residents. The property is equipped with a generator, ensuring uninterrupted power supply. Cable TV is available in all units, and high-speed internet is readily accessible throughout the entire property. For added security, reliable surveillance cameras are in place.
Notably, Paradise View Restaurant, a cherished component of Stella Paradise View, has garnered acclaim as one of TripAdvisor's top 5 restaurants to dine at in Antigua and Barbuda for the past 3 years. This thriving establishment not only adds value to the property but also presents a remarkable opportunity for business-minded individuals seeking a renowned and successful dining venture.
Stella Paradise View offers a truly unique investment opportunity, showcasing breathtaking ocean views, comfortable accommodations, and a successful restaurant operation. Don't miss your chance to own this exceptional property, which combines commercial and residential aspects in one remarkable package. Schedule a viewing today and experience the allure of Stella Paradise View.
---
Features
Ocean View
Balcony
Terrace
Furnished
Appliances
Pet Friendly
Maid's Quarters
Maid's Bathroom
Laundry Room
Patio
Pool
Cable TV
High Speed Internet Throughout The Property
Cable Tv In All Units
Separate Private Entrances To Accommodation
Generator
Security Cameras
All Restaurant Kitchen And Bar Equipment Included
---
Amenities
3 Bedrooms
Television
Caribbean Sea Views
Internet
Fully Equipped Kitchen
Laundry / Washing Machine
Iron And Ironing Board
Private Swimming Pool
Deck
---
Nearby
Nearest Bar/Restaurant:
1 minute away
Nearest Supermarket:
5 minutes away
Nearest Airport:
V.C Bird International Airport 20 minutes drive
Nearest Beach:
Dickenson Bay 5 minutes walk
We accept



Strategic Alliances
We also advertise our properties internationally on the following websites:
Contact Us
Owner/Founder


Dominique D'Aloia,
+1 (268)-725-4128
dominique@paradisepropertiesconnection.com

Paradise Properties Connection Ltd.
,
English Harbour, St. John's, Antigua, W.I. ©2005-2023
Paradise Properties Connection Ltd.
St. John's, Antigua, W.I. ©2005-2023