Your trusted real estate agent in Antigua W.I. since 2005
from US$ 2,915 per night
Pigeon Beach Estate House
Windward Estate, Pigeon Beach, English Harbour, Antigua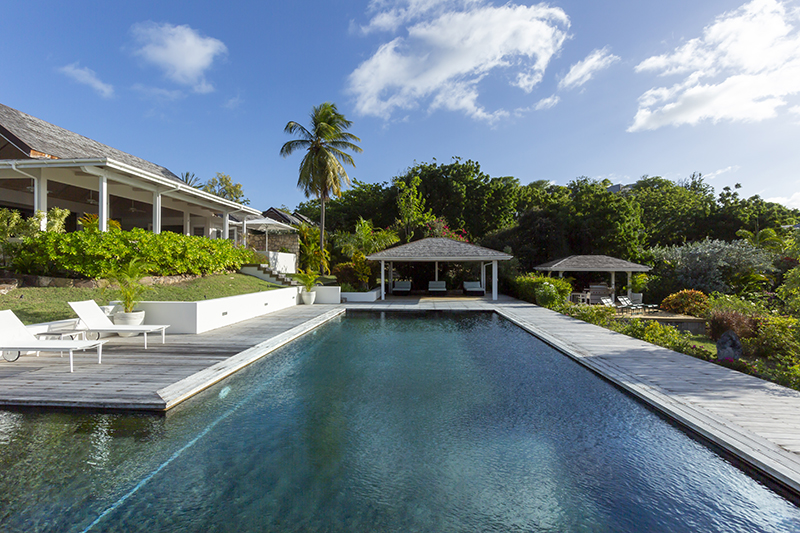 PIGEON BEACH ESTATE HOUSE
Holiday Rentals
from US$ 2,915 per night
Highlights
Luxury Home
Caribbean Sea View
Beach Front
Swimming Pool
Deck
Terrace
Season
Price per night
Price per week
Price low season
15th May to 30th of November
US$ 2.915,00
US$ 20.400,00
Price high season
1st of December to 14th of May
US$ 3.775,00
US$ 26.400,00
PEAK SEASON rates
US$ 31.500,00
YACHT BOAT SHOW : 2nd to 11th of December
XMAS and New Year : 21st December to 7th of January
RORC, MAXI YACHT REGATTA, SAILING week : from February to end of April
Antiguan Government Taxes:
14% ABST will be applied
3 or 5 USD per day per person will be applied
Please also note Christmas bookings 10 days minimum stay required.
This villa sits on six acres of beautifully landscaped garden next to Pigeon Beach, one of the most attractive and popular beaches on the island. Pigeon Beach House is situated on a breathtaking peninsular in English Harbour. The wild and natural Windward Beach to the east and the gentle, breezy Pigeon Beach to the west, offers views across the bay and out to the ocean which are amongst the most superior to be found anywhere in the world today.
The interior of the property offers all to be expected of a house of this caliber. Beautifully laid out queen and king size beds, 5 en-suite bathrooms - each room decked with its own private terrace. The main lounge is in the center of the structure and connects from the north wall and joins to the gazebo on the south garden. The gazebo also has an area to afford alfresco dining if you do not wish to dine in the interior dining room. There are two sun decks close by which link up to the large sea water swimming pool which has a ten foot depth and a sprung diving board.
Accommodation lay out :
The main villa has 5 bedrooms, all with a/conditioning, all with en-suite baths in the main house
In the adjacent cottage there are 2 bedrooms, with a/c sharing 1 bath, perfect for a couple with young children.
1 additional bedroom with en-suite completely renovated and new bathrooms.
A total of 8 bedrooms with private terraces all bedrooms with a/c in the bedroom. It can be rented as a 5 or 7 or 8 bedrooms bedrooms villa
---
Features
5 bedrooms in the main house 3 with king size beds, the other 2 bedrooms with queen size beds
2 bedrooms, 1 bath in the adjacent cottage
A total of 8 bedrooms with private terraces 3 bedrooms with a/c in the bedroom
7 queen sized beds, 2 twin beds
6 en-suite bathrooms, 2 separate bathrooms
Swimming pool
10ft dept with diving board with sea water
Beautiful landscaped gardens
Walking distance to beach
Spacious NEW deck area and NEW POOL DECK
Boat dock
Breathtaking views
Personal chef available upon request at extra charge
Dishwasher
30 minute drive from airport and St. John's Capital
Right on the Pigeon Beach
Just a few minute drive to restaurants, bars, cafe's, shopping, grocery store and the historical Nelson's Dockyard
Rooms
1) Room 1 – has 1 double bed and 1 bathroom
2) Room 2 - has 1 double bed and 1 bathroom
3) Gallery Room – has 1 double bed and 1 bathroom
4) Gallery Room 2 – has 2 single beds or one double bed and 1 bathroom
5) Gallery Room 3 one Double bed one bathroom
6) Cottage 1 - in room one there is 1 double bed AND in room 2 two there are 2 single beds AND 1 bathroom to be shared between these the 2 rooms
7) Cottage 2 - has 1 double bed plus 1 single bed and 1 bathroom plus 1 semi-outdoor shower
---
Amenities
8 Bedrooms
Directly On The Beach
Caribbean Sea Views
Air Conditioning
Internet
Fully Equipped Kitchen
Barbecue Grill
Housekeeping
Terrace
Private Garden
Private Swimming Pool
Deck
---
Bedroom 1
Bedroom 2
Bedroom 3
Gallery Room 1 : Double bed 1 bathroom
Bedroom 4
Gallery Room 2 : 2 single Bed 1 bathroom
Bedroom 5
Gallery Room 3 : 1 double Bed 1 bathroom
Bedroom 6
Cottage 1: Room 1 with 2 single Room 2 double bed 1 bathroom for the 2 room's
Bedroom 7
Cottage 2: 1 Double Bed , 1 single Bed 1 bathroom plus 1 outside shower
Bedroom 8
Staff quarters
Room 1: 2 single beds
Room 2 1 single bed 1 bathroom