Your trusted real estate agent in Antigua W.I. since 2005
US$ 3,200,000
Galley Bay Beach, Antigua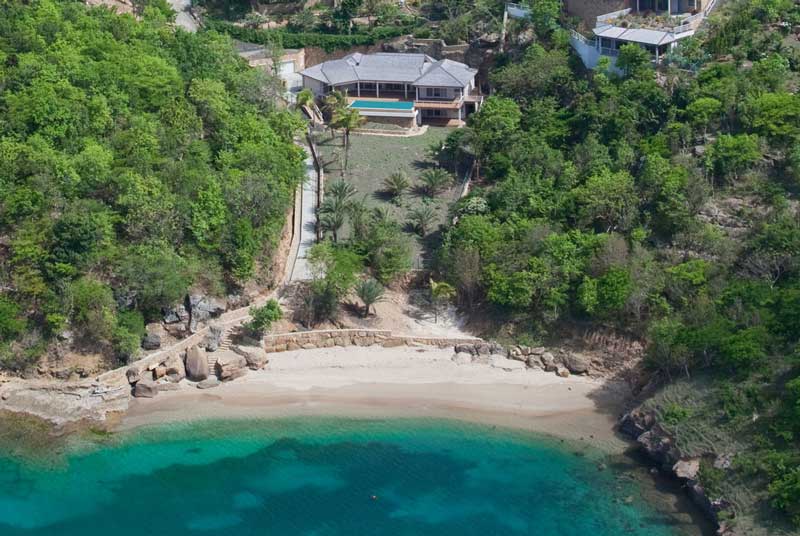 VILLA KATIA ON THE BEACH
Property Sales
US$ 3,200,000
5
4
44000 sq. ft
4,500 sq. ft.
Highlights
Luxury Home
Caribbean Sea View
Beach Front
Swimming Pool
Deck
Terrace
Situated within a new discreet, elegant, and upscale development, Galley Bay Heights, Villa Katia is a little jewel waiting to be discovered.
In complete adaptation to the surrounding landscaping, Villa Katia is built of local materials such as stone and wood, with grey shingle roofs, and painted in the grey, cream and sandy hues of the surrounding limestone and volcanic outcrops. The fluent lines of the villa merge with the environment and are almost hidden in the rich, colorful landscape. There is total respect for the natural beauty and vegetation of this idyllic location.
The revolution continues inside, where the interiors are simplified, providing large spaces in monochromatic colors, with essential fittings of the highest quality and floors in stone or wood throughout. There is no distraction inside, so that one is always drawn to the view.
Calm, tranquil, and comfortable, Villa Katia pays homage to its setting, and offers the opportunity to enjoy a luxury home with assurance and serenity. The result is inviting and warm. In addition, with just 2 minutes walking to private, secluded, intimate beach, makes this property highly desirable.
The master bedroom with dressing room has an en-suite bathroom. The three additional bedrooms also have en-suite bathrooms. There is a large open plan lounge, dining room, and kitchen with stainless-steel appliances. The large partially covered deck featuring BBQ and bar area, with al fresco dining and lounge area.
---
Features
Detached garage
Beach views
Infinity pool and Jacuzzi overlooking the private garden
Air-conditioning in all the bedrooms and living area
110/220 v
ADDITIONAL FEATURE : an additional land space to build an additional cottage already approved
---
Amenities
5 Bedrooms
Television
Directly On The Beach
Caribbean Sea Views
Air Conditioning
Internet
Fully Equipped Kitchen
Barbecue Grill
Daybeds
Laundry / Washing Machine
Iron And Ironing Board
Terrace
Private Garden
Private Swimming Pool
Deck
Backup generator
Hurricane Shutters
---
Nearby
Nearest Bar/Restaurant:
10 minutes driving away
Nearest Supermarket:
10 minutes away
Nearest Airport:
30 minutes away V.C. Bird International Airport
Nearest Beach:
on a small private beach
We accept



Strategic Alliances
We also advertise our properties internationally on the following websites:
Contact Us
Owner/Founder


Dominique D'Aloia,
+1 (268)-725-4128
dominique@paradisepropertiesconnection.com

Paradise Properties Connection Ltd.
,
English Harbour, St. John's, Antigua, W.I. ©2005-2023
Paradise Properties Connection Ltd.
St. John's, Antigua, W.I. ©2005-2023