Your trusted real estate agent in Antigua W.I. since 2005
US$ 6,500,000 US$ 5,950,000
St. James Club, English Harbour, St Paul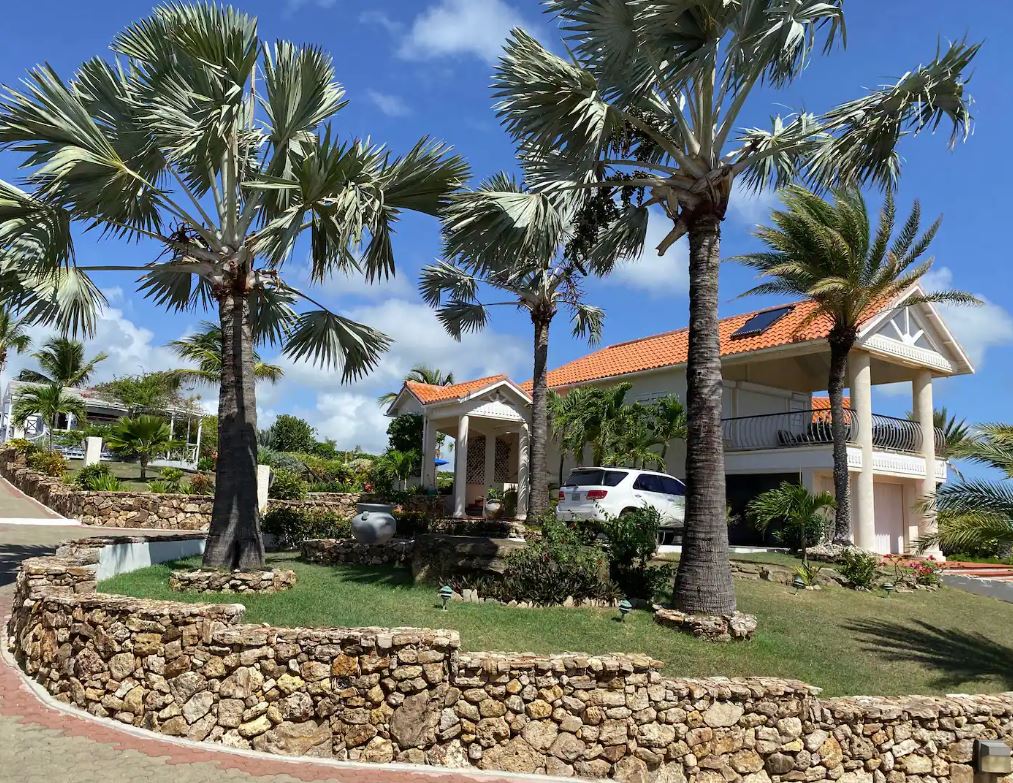 VILLA OLYMPIA
Property Sales
US$ 6,500,000 US$ 5,950,000
Highlights
Luxury Home
Caribbean Sea View
Swimming Pool
Deck
Terrace
Designed to make a lasting impression, Villa Olympia at St. James is one of Antigua's finest private retreats.Villa Olympia sits at the top of the St. James Hill overlooking the renowned St. James Club and has a breathtaking view over two fantastic bays where the Atlantic Ocean meet the Caribbean Sea.
The complex is approximately 2 acres.This villa consists of a two-story luxury house with 3 bedrooms, complete with en-suite bathrooms, a separate guest house, an entertainment area, and two pools. The quality of furniture and fittings is of an exceptionally high standard.
The main villa is made of concrete construction, complete with large columns facing an easterly direction. The roof is tiled with Spanish terra cotta tiles. Inside, the wooden ceilings are vaulted and floors are laid with Italian marble tiles. Hardwoods that are used inside the house are mahogany, purple heart, and green heart. Leather couches in the living area complete the opulent ambience. The upstairs double bedrooms each have an en-suite bathroom and their own balcony.
Attention to detail and the finest of materials have been used to create this luxury setting.The kitchen is fully fitted with many attractive features. An outside living area, sheltered from the wind, has comfortable seating and a dining table. These overlook the smaller private pool.Take a walk through the exotic garden, along riverbed flint stone-lined pathways until you reach the separate outside bar area. This area is an ideal place to relax with friends and enjoy a cocktail while admiring the view. Next you will find a self-contained villa/guesthouse. This guesthouse is open plan and would suit a visiting couple or family. Again, marble tiles have been used throughout.
The open-plan kitchen has a marble counter top and luxury fittings.Comfortable sofas look out over an exquisite view. A lot of detailed in-laid hardwoods have been used to enhance this section. Two beds are on the lower-floor bedroom, and a staircase leads to an alcove with another bed. An attractive bath leads off the main bedroom, while there is an outside shower and Jacuzzi area made from Italian marble. The guesthouse is next to the tiled double garage complete with back-up generator.
Other utilities are in a room below the guesthouse.The large pool and entertainment area are adjacent.The pool with center island and fountains is amazing.Words are not sufficient. Inlaid tiles, mosaic, and lighting complete the picture. Leading down from the pool you arrive at the building known as the breakfast room and entertainment English Harbour, with the attraction of Nelsons Dockyard, fine restaurants, luxury yachts and beaches, is a 10-minute drive.This is a smoke-free villa.
---
Features
Sleeps 12
3 Fully fitted Kitchen
Separate dining/entertainment room
Spacious entertaining areas
2 pools
Double garage
Karaoke system
Smoke free villa
Use of St. James's Club amenities such as beaches, tennis courts, water sports, and gym
---
Amenities
6 Bedrooms
Television
Caribbean Sea Views
Air Conditioning
Internet
Fully Equipped Kitchen
Laundry / Washing Machine
Terrace
Private Garden
Private Swimming Pool
Deck
Backup generator